Clamping Device Test Machine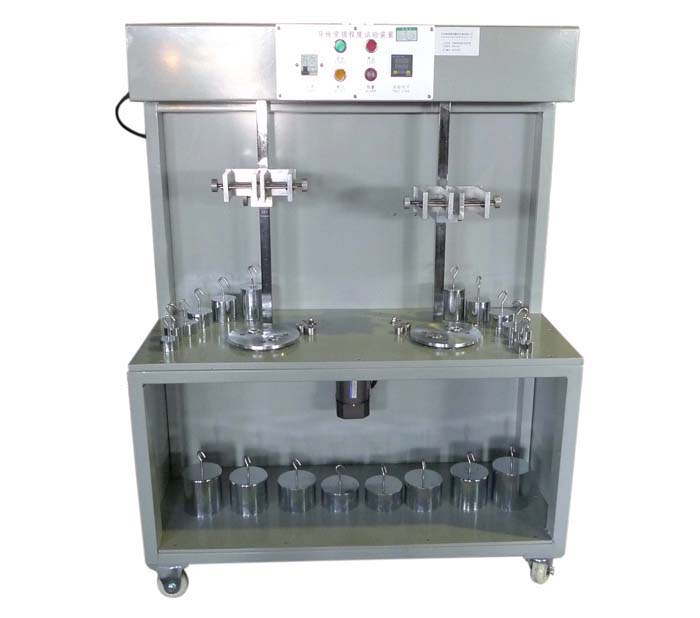 Product overview:
This testing machine is also called the test apparatus for checking damage degree of wire which confirms to many standards such as IEC60669, IEC60884 and so on. This compliance is used for judging whether the design and the structure of the clamping screw terminal is correspondent with the requirement of non over-damage to the wire. Besides, it is also used to check whether the clamping screw terminal can bear the stress during the process of normal usage.
The testing times can be preset before the test, and the compliance stops automatically with the alarm when the testing times are reached.
The major difference between SC-XL01 and SC-XL03 is that the SC-XL03 has two stations. Besides, it is equipped with tensile weight. Two wires can be tested at the same time, no matter they are same or different.
Technical parameters:
Power Supply: AC220V 50Hz or 115V 60Hz
The number of working stations: 2.
The range of counting number: 0~9999(150 times(15 min) is by default.
Rate of Testing: (10±2)r/min
Rotating weight: 0.3, 04, 0.7, 0.9, 1.4, 2.0kg*2.
Pulling weight: 30,40,50,60N*2
The diameter of the Ferrule Hole: 6.4、6.5、9.5、12.7、13、14.3、14.5、15.9、19.1、22.2、25.4、28.6mm
Diameter of gyration:75mm
Height(H)(mm): 260、280、300、320mm
Size: 1000mmX400mmX1300mm
Wire cross-section(mm²)
The diameter of Ferrule Hole( mm)
The height (mm)
The weight of the object (kg)
0.5
6.5
260
0.3
0.75
6.5
260
0.4
1.0
6.5
260
0.4
1.5
6.5
260
0.4
2.5
9.5
280
0.7
4.0
9.5
280
0.9
6.0
9.5
280
1.4
10.0
9.5
280
2.0
16.0
13.0
300
2.9
25.0
13.0
300
4.5
35
14.5
320
6.8
1、 The height:±15mm。

2、 If the diameter of the Ferrule Hole is not big enough, you can choose the larger one.
| | | | | | | | | |
| --- | --- | --- | --- | --- | --- | --- | --- | --- |
| Wire cross-section(mm²) | 0.5~1 | 0.75~1.5 | 1.5~2.5 | 2.5~4 | 4~6 | 6~10 | 10~16 | 16~25 |
| Tensile  force (N) | 30 | 40 | 50 | 50 | 60 | 80 | 90 | 100 |
Picture view: