Cold Bend Test Apparatus for IEC60540/ IEC60811 /IEC60598-2-21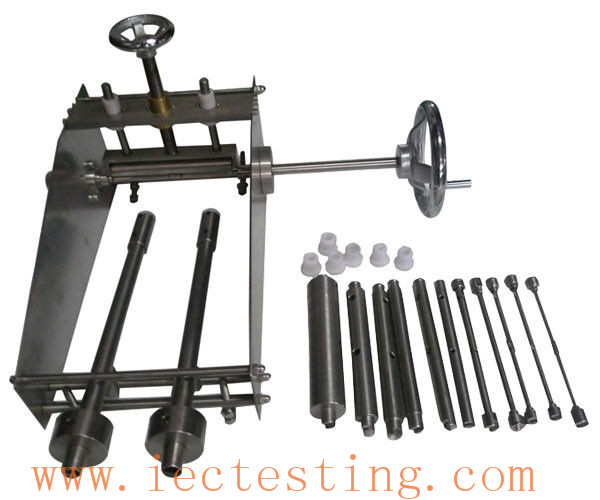 Cold Bend Test Apparatus according to IEC60598-2-21 figure 2,IEC60540 and IEC60811
With the test specimen at room temperature, the pipe is wound on a mandrel of between 4 and 5 times the diameter of the test piece and then is placed in
the low temperature cabinet (-15 °C ± 2 °C) for 16 h.
After this time period the sample is wound around the mandrel for two turns in the cabinet.
There shall be no cracks.
Product information:
This test conforms to the standard requirements of IEC60540 and IEC60811
It is used for cold bend test of the circular insulation wire core whose diameter is small and the sector-shaped insulation wire core which can not be used for dumbbell. The apparatus shall be held in a refrigerator before and during the test.
The diameter of the mandrel shall be between 4 and 5 times the diameter of the test piece (see below).
The mandrel shall be uniformly rotated at a rate of one revolution in about 5 s and the number of turns shall be as specified in the following table.
Technical parameters:
Diameter of samples: 5~12.5㎜
| | |
| --- | --- |
| Overall diameter (d) of the test piece  (mm) | of turns Number |
|  d≤2.5 | 10 |
| 2.5<d≤4.5 | 6 |
| 4.5<d≤6.5 | 4 |
| 6.5<d≤8.5 | 3 |
| 8.5<d | 2 |
Diameter of pipe: 3、4、5、6、7、8、9、10、12、14、16(mm)
Diameter of test bar: 9.6、12.5、16、20、25、31.5、40、50(mm)