Drip Box for IPX1 and IPX2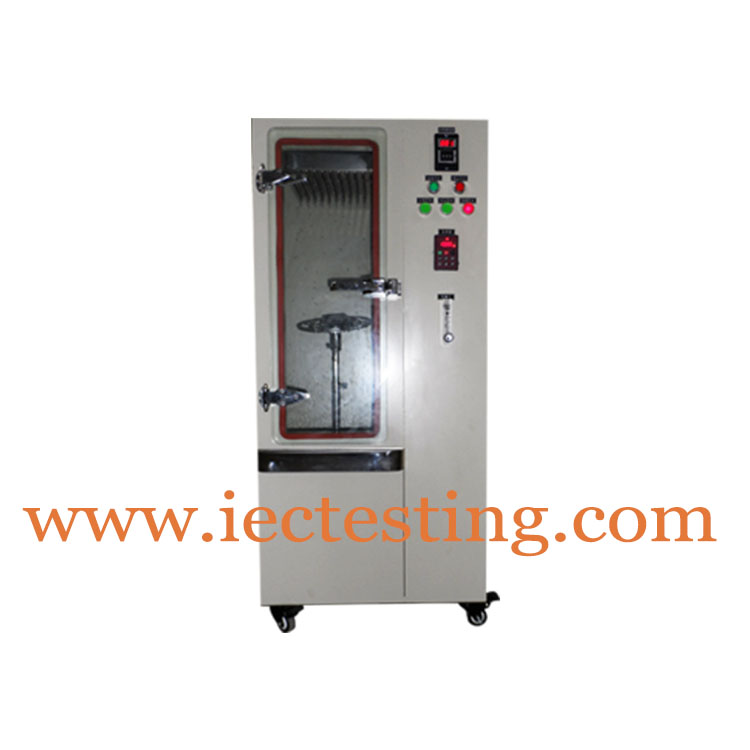 Product information:
This test device is to verify Protection against Vertically Falling Water Drops. It is designed and manufactured in accordance with the standard requirement of IEC60529 clause IPX1 and IPX2.
The rise and fall of the drip box is controlled by the motor. It is equipped with the rotatable objective table whose rotating speed is 1r/min for IPX1test;It is also equipped with 15°bevel for supporting sample for the IPX2 test. What's more, this device is with the clean water filtration unit which can prevent pinhole from jamming.
Technical parameters:
No.
Item
Parameter(SC-IPX12A-1000)
1
Power supply
Single phase AC 110~220V,50Hz
2
Water supply
Water flow rate:1-5mm/Min(±0.5mm/min) clean water without inclusion.

This device is equipped with clean water filtration unit

3
Water tank size
L*W*H=1250×1350×2600mm
4
Drop test area
L*W*H=1000×600mm,customizable
5
Drop height
1000mm~1800mm adjustable
6
Dripping speed (water flow)
1+0.05  0mm/min or 3+0.05  0mm/min (Switchable)
7
Water hole
Φ0.4mm
8
Distance between holes
20 x 20mm
9
Diameter of  rotary table
Φ600mm
10
Rotating speed of the rotary table
1r/min
11
Load bearing of the rotary table
≤150㎏electrical equipment (without rotary column)
12
15°bevel for supporting sample
15°bevel
13
Site requirements
Dedicated IP waterproof test room,The ground should be flat with illumination

10A waterproof leakage switch(or socket)used for equipment

14
The area
L*W*H=1500mm×1500mm×2650mm,the size can be customized by the customers' need.
Picture view: