IEC60529 Dust Proof Test Chamber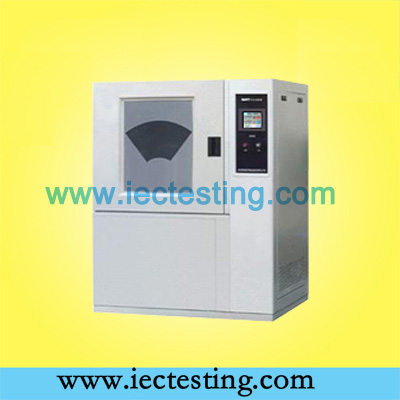 Application
Dust proof test chamber is intended for determining the degree of protection against harmful deposits of dust (IP5X) and against ingress of dust (IP6X). Dust protected enclosures to numeral 5 allow a limited quantity of dust to penetrate under certain conditions. Dust-tight enclosures to numeral 6 do not allow any dust to penetrate.
According to standard
Dust proof test chamber is designed and manufactured in compliance with IEC 60529, IEC 60068-2-68 , IEC 61558-1, IEC 61386-23, IEC 60598-1, BS EN 60529.
Features
—Stainless steel interior 304, mirror polished
—Stainless steel funnel
—Two vibrators on funnel sides to prevent dust deposits
—Timer for triggering funnel vibrators
—Heaters on funnel sides for dust drying
—Mesh product shelf stainless steel
—Large observation window with bright lights to keep the box, and use of tempered glass embedded heating element, at any time a clear observation box condition.
— Big easy cleaning filter removes the dust from vacuum circuit protecting the instruments
—Dust circulating turbine with brushless motor – adjustable speed
—Two air flow totalizers to cover hole range of airflows, each with its own activation valve
—Timer for programming chamber operation
—Talcum powder 20kilos included
Specifications
Model

JY-DC56

Internal dimension (D*W*H) mm

1000*1000*1000

External dimension (D*W*H) mm

1300*1300*2200

Interior material

Strong Stainless steel

Exterior Wall

Painted Steel

Viewing window

There is viewing window on the door, allow operator to see the specimen

Specimen power socket

Dust-proof socket

Controller

Programmable touch screen controller

Metal net dimension

Nominal line diameter is 50um, nominal separation distance between line 75um

Air blower

All plastic centrifugal fan

Vacuum system

Equipped with pressure gage, air filter, three pieces of pressure regulation, and connection tube ,

vacuum pump is optional

Concentration of dust

10kg

Testing Temp

5~25°C

Flow rate of dust (m/s)

5m/s

cement amount

2kg/m3 ~ 4kg/m3

Testing Time

continuous

1-9999(S,M,H)adjustable

Circle

1-9999(S,M,H)adjustable

Accessories

Vacuum pump, Dustproof plug (220V), Wiper, Casters with adjusters

Power Source

AC220V 50Hz 2KW