Glow Wire Tester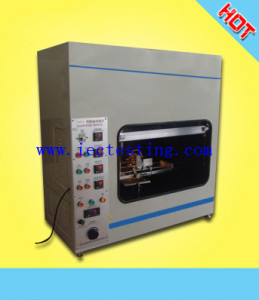 Glow Wire Tester
Application:
The Glow-Wire tester is used to establish if overheated electrical and electronic components resulting from malfunctions such as overload, short circuit, poor connection, or others may ignite and spread the flame to the rest of the product. The Glow-Wire Tester simulates an overloaded resistor or other ignition source and applies heat to the specimen for a short period of time. Through observation and measurement, the fire hazard of the specimen can be determined.
Product Description:
The JY Glow-Wire Tester is a fully automatic instrument contained in its own cabinet to maximize the safety of the operator. The ignition source is simulated by an electrically heated wire loop. The temperature of the loop is maintained through a thermocouple and controller. The test specimen is then pressed against the tip of the wire loop at a constant 1N force. A scale provides easy reading of any flame heights that may occur. The sample carriage can be set prior to the test to limit the glow wire penetration to a maximum of 7mm. Under the test stand is a pine board covered with standard tissue paper. Any heated or burning debris from the specimen will land on the tissue. This provides additional analysis of whether or not debris from the test specimen may cause spreading of flames.
Used to determine the flammability tendency of components and materials that come in contact with other overheated components, this test is critical to the safety of consumer products. The instrument is designed to conform to the most commonly used standards in the market.
Technical parameters:
Glow wire

Ф4mm ± 0.04mm  Ni/Cr(80/20) special standard ring shape,horizontal standing

Thermocouple

Type K Ø 0.5mm  (-200 ~ 1200°C)

Temperature adjustment

from the room temperature up to ~1000°C

Ohmic heating temperature of glowing filament

500 ℃~960 ℃( digital display can be preset ) ,temperature fluctuation < 3 ℃

Specimen pressure on  glowing filament

1.0N±0.1N( adjustable ),better than standard 1.0N±0.2N

Maximum depth of heating

7mm ± 0.5mm

Specimen movement speed

10mm /s ~25mm /s

Testing time

30s±0.1s(0s ~999.9s digital display preset )

Thickness of ignite bedding board

thickness10mm ,

white pine board cover 12g /m 2 ~30g /m 2  standard silk paper

GW Chamber Volume

≥ 0.5m 3 , black interior

Vent  Pipe Diameter

100mm

Outer Dimension

W × D × H=: 1100mm ×550mm ×1200mm

Weight

140kg

Power Supply

220V /50Hz or 110V /60Hz
Product Features:
1.Self contained cabinet with large viewing window and dark colored interior
2.Easy access to testing area during setup
3.Touch Screen Controller
4.Built in exhaust fan
5.Control panel has all controls in easy reach including lighting and exhaust
6.Automated test advances the glow-wire at a prescribed speed and quickly retreats when the test time ends.
7.Safety interlock on door halts test if the door is opened
8.Internal cabinet light can be turned on during test setup and shut off to give better viewing during the test
Compliance:
This test is required by several standards, such as:
IEC60695-2-10/11/12/13
IEC 60695-2, under the general heading Fire hazard testing – Part 2: Glowing/hot-wire based test methods, consists of the following parts:
Part 2-10: Glowing/hot-wire based test methods – Glow-wire apparatus and common test procedure
Part 2-11: Glowing/hot-wire based test methods – Glow-wire flammability test method for end-products
Part 2-12: Glowing/hot-wire based test methods – Glow-wire flammability test method for materials
Part 2-13: Glowing/hot-wire based test methods – Glow-wire ignitability test method for materials
IEC60335-1, IEC60598-1, IEC60745-1, IEC60884-1. GB/T5169.10/11/12/13, GB7000.1-2002,GB4706
 IEC 60695-2-10,11,1213 – IEC 60950-1 – IEC 60335-1 – IEC 60884-1 – IEC 60238 – IEC 60745-1 – IEC 60400 – IEC 60730-1 – IEC 60598-1 – IEC 61050 – IEC 60320-1 – IEC 61058-1 – IEC 60742 – IEC 60669-1 – UL 746A – BS EN 60695-2-1 – IEC60884 – BS 6458 – NF C20 -921-1 – IS:11000.
JY Glow Wire Test Apparatus is in compliance with all those standards above.