IEC60529 IPX56 Waterproof Ingress Protection Test Equipment For Lamps With Hand Held Spray Gun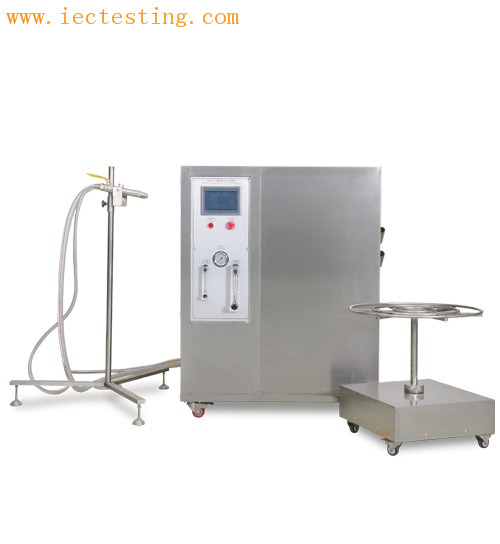 IEC60529 Ingress Protection Test Equipment IPX56 Waterproof Testing Device for Lamps With Hand Held Spray Gun
Standard:
IEC60529 degree of protection provided by enclosures (IP Code) of the IPX5 and IPX6, IEC60884-1, IEC60335-1, IEC60598-1.
Application:
It is used for the testing of IPX5 and IPX6. It can be used in a wide range of applications, such as lamps, auto parts, electrical appliances, cabinets, and smart wearables. However, the use of the site requires drainage and ventilation to ensure the drying of the environment. The equipment is made of all 304 stainless steel and will not rust for long-term use. The model can be certified by the third-party testing unit.
Function introduction:
It can be used in special waterproof laboratory to carry out [IPX5]/[IPX6] waterproof level test.
Split structure, consists of two parts: the chassis and the turntable; the spray gun is hand-held, requiring the user to have a special waterproof test room.
Self-contained water storage tank, the water tank float valve automatically controls the water inlet, and has low water level alarm monitoring, which effectively prevents the water pump from running dry and damaged.
The core control system: time relay + transfer switch.
IPX5 / IPX6 spray water flow through the flow meter adjustment, manual adjustment.
The sample power socket (AC220V, 10A) is installed on the turntable. The sample power supply power-off time can be controlled by the program: power failure (0-999min) – power-on (0-999min) – power failure (0-999min), suitable for samples In the test, you need to turn off the power.
The electric parts of the turntable are fully sealed to effectively prevent leakage of water.
Material description:
Chassis: It is made of SUS304# stainless steel to ensure no rust for long time use.
Turntable structure: It is made of SUS304# stainless steel plate to ensure no rust for long time use.
Electrical components: the use of brands such as LG, Omron (wired process fully meets national standards).
Water pump: stainless steel multi-stage pump.
Parameters:
| | |
| --- | --- |
| Model | JY-IPX56A |
| Operation panel | Mechanical button |
| Flow display | Digital meter |
| Outer size | 100x800x1300mm |
| Volume of water tank | 450L |
| IPX5 Spray aperture (mm) | Φ6.3mm |
| IPX6 Spray aperture (mm) | Φ12.5mm |
| IPX5 Spray Flow | 12.5±0.625 L/min |
| IPX6 Spray Flow | 100±5L/min |
| Flow control mode | Manual adjustment (rotor flow meter) |
| The distance of IPX56 nozzle mouth to test products | 2.5-3m, controlled by the experimenter |
| Spray gun fixing method | Hand held spray gun |
| Rotary table | Diameter:Φ600mm, Load bearing≤50kg. |
| Rotary table size | 600x600x800mm |
| Input power | AC380V,50Hz (customizable) |
| Protector | Leakage protection, short circuit protection, water shortage protection |