IEC60529 IPX8 Positive And Negative Pressure Immersion Test Device In Diving Lighting Underwater Lamp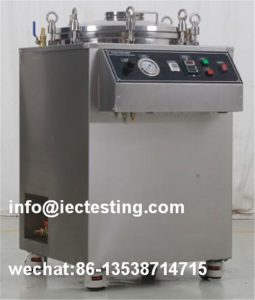 IPX8 Pressure Immersion Test Device-positive and negative pressure
Standard:
IEC60529 degree of protection provided by enclosures (IP Code) of the IPX8, IEC60884-1, IEC60335-1, IEC60598-1.
Application:
It is used for the testing of IPX8. Mainly used in Diving lighting field- Underwater lamps (such as fishing lights), diving flashlights and other lighting industries, Diving photography field- Underwater ROV robots, diving cameras, etc., Military equipment field- Submarine components (such as metal sensors), underwater metal detectors, etc.
Major function:
By applying compressed air, push the pressure to water to simulate the corresponding test environment. (Positive pressure)
The pressure difference between the inside and outside of the product shell is obtained by pumping the air above the water surface, and use the pressure to test. (Negative pressure)
Features:
Applicable to the IPX8 waterproof rating test of the product.
The tank body is made of 304 stainless steel material, high-precision overall sub-arc welding, good pressure bearing.
The equipment is equipped with a safety valve. After the rated pressure is exceeded, the pressure is automatically released to prevent the operator from operating improperly and the set pressure is too high.
The electronic control components using imported brands (such as: LG, Panasonic, Omron, etc.); pneumatic components using Taiwan's original AirTac, to ensure the stability of the use of equipment and service life.
The test time can be set to: 0-999 minutes. When the test time is reached, the pressure can be automatically stopped, and the air inside the tank can be automatically drained. The tester can open the can lid and take out the test sample.
Pressure display: The digital pressure gauge is used to automatically control the test pressure inside the tank.
The base of the equipment is equipped with 4 movable brake casters for easy movement and fixing.
Parameters:
| | |
| --- | --- |
| Model | JY-IPX8-50A-200L |
| Inner size | φ700 x H600mm |
| Outer size | 1000x1000x1400mm |
| Wall thickness | 4mm |
| Flange thickness | 20mm |
| Range of test depth | 0-50m |
| Range of test pressure | -0.08~0.5Mpa / -0.8~5bar |
| Vent pressure of safety valve | 0.55Mpa |
| Pressure control mode | Automatic control by pressure sensor |
| Pressure display mode | Pressure sensor |
| Pressure setting accuracy | 0.001Mpa |
| Test time | 0-999mim |
| Power | AC220V, 50Hz, 100w (customizable) |
| Protector | Leakage protection, short circuit protection, water shortage protection |