IPX1234 Vertical Drip Rain And Oscillating Tube Integrated Stainless Steel Test Chamber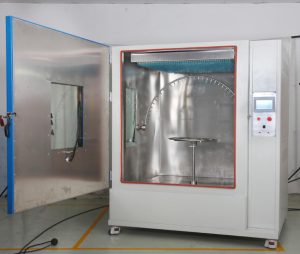 IPX1234 Vertical Drip Rain And Oscillating Tube Integrated Stainless Steel Test Chamber
IPX1 / IPX2 /IPX3 / IPX4Vertical Drip Rain  And Oscillating Tube Testing Chamber
Product introduction:
This equipment is suitable for the test of electrical products which are enclosure and sealed in the rain environment whether can ensure the good performance of equipment and components. The scientific design of this equipment, so that the equipment can be realistically simulated dripping water, water spraying, splashing water etc. The application of the comprehensive control system and the frequency conversion technology makes the rotation angle of the test sample rack. The swing angle of the pendulum rod and the swing frequency of the spray water can be adjusted automatically.
IPX1/2, IPX3/4 waterproof degrees test equipment are designed and manufactured according to IEC 60529 < Degrees of protection provided by enclosures (IP Code)>. This equipment is applied in IPX1, IPX2, IPX3, IPX4 waterproof degrees testing purposes, which are widely adopted by luminaire products, electrical and electronic products certification institutions, testing organizations and production enterprises for quality control.
Technical Parameters:
| | |
| --- | --- |
| Inner Chamber | 800mm*800mm*900mm |
| Outer Chamber | 1150mm*1450mm*1900mm |
| Rotating speed(rpm) | 1 ~5 adjustable |
| Turntable Diameter | 400 mm |
| Turntable Height | 200 mm, it is adjustable |
| Dripping hole | 0.4 mm |
| Dripping area | 600X600 mm |
| Height | 120 mm |
| Spray ring radius | 300 mm |
| Swing angle range of the oscillating tube | ±60°,±180° |
| Needle hole | φ0 .4 mm |
| Distance between holes | 50 mm |
| Water flow of each hole | 0.07 L/min +5% |
| Spray pressure | 80-150Kpa |
| Pendulum swing | Max.±150° |
Structure and Principle:
Outside enclosure and inner chamber all are made of SUS304 stainless steel, the upper part of the test chamber is for testing and the control, the lower part of the test chamber consists of the body part, transmission part and electrical part.
Main configurations: water pump, flowmeter, gear motor and speed motor.
There are standard test options in the equipment's program, user can start test by choose the standard test program ★ automatic frequency control water flow technology, user just need to choose the relative waterproof testing on the interface, enter the test flow, system can automatically reach to the corresponding IP water flow requirements; also with define test options, user can set their own test data to meet the different test standards. The turntable can be tilted to 15°, the test position can be automatically changed.
This test device is to verify Protection against Vertically Falling Water Drops. It is designed and manufactured in accordance with the standard requirement of IEC60529 clause IPX1 and IPX2, IEC60335-1 clause 15.1.
The rise and fall of the drip box is controlled by the motor.
Stainless steel fine filter for dirt filtration.
Using compressed air to blow the needle water, to prevent water reactive substances and atmospheric blocking needle. (The air compressor is not included).
Stainless steel general medical needle nozzle, easy to buy, not easy to rust.
Needle nozzle and needle nozzle seat using taper connection, can be easily replaced without the tool, individual damage to the needle nozzle can be easily replaced quickly.