IPX3-IPX4 Oscillating Tube spraying and splashing water Test Chambers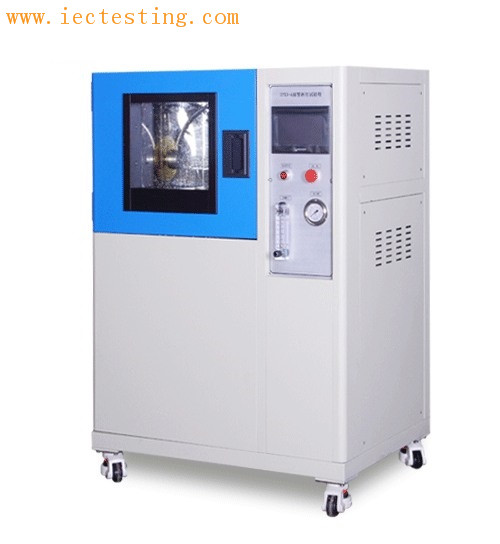 For checking the protection against water with spray nozzle of 0,4 mm bore are used to prove the degrees of protection for the second characteristic numerals 3 and 4 "Protection against Spraying Water" resp. "Protection against splashing Water".
The oscillating tube test is one of several methods used to test the water protection capabilities of enclosures for electronic items that are expected to be exposed to rain or water spray.
This test is used to meet the requirements of IPX3 and IPX4 in IEC 60529. In the test described in IPX3 and IPX4 with an oscillating tube, the specimen is placed in the center point of the semicircle defined by the oscillating tube. It is then subjected to a spray of water at a defined pressure to test for leakage.
The oscillating tube will have spray holes over 120° of the tube for IPX3 and over the full 180° for IPX4. In IPX3 the tube will oscillate to 60° either side of the vertical. For IPX4 the tube travels through an angle of almost 340°. The specimen needs to be placed within 200mm of the tube. For this reason different size tubes are needed to test different size specimens.
Features
—Touch screen controller and PLC
—Oscillating tubes are stainless steel
—Stainless stee lnozzles removable for cleaning or replacing
—Nozzles can beturned on or off to adjust the arc of the spray from the tube
—Water supply unit includes water filter, pump, flow meter, electromagnetic valve and switch valve.
—Stainless steel specimen support with easy height adjustment
— Stainless steel specimen support with fully sealed to prevent water leakage
—-Powersupply waterproof rotation socket for sample
IPX3-IPX4 Oscillating Tube Test Chamber Specifications:
No.
Item
Parameter
1
Model
JY-IPX34C-200
JY-IPX34C-400
JY-IPX34C-600
2
Oscillating tube with radius(mm)
R200
R400
R600
3
Internal Dimensions (mm)
L500*D500*H500
L900*D900*H900
L1300*D1300*H1300
4
External Dimensions (mm)
L1000*D700*H1400
L1400*D1120*H1750
L1800*D1520*H1950
5
Flow Meters(L/mm)
0-1 L/min
0-2L/min
0-3L/min
6
Turntable Table Diameter(mm)
∮200
∮400
∮600
7
Turntable Height(mm)
150-250mm
350-600mm
550-1000mm
8
Tube Inner Diameter(mm)
15
15
15
9
Nozzle (mm)
0.4 mm
0.4 mm
0.4 mm
10
Oscillating Angles
IPX3: 60° from center (120° total)
IPX4: 360° from center (near 360° total)
(Standard accepts lesser angle to allow room for sample support)
IPX3: 60° from center (120° total)
IPX4: 360° from center (near 360° total)
(Standard accepts lesser angle to allow room for sample support)
IPX3: 60° from center (120° total)
IPX4: 360° from center (near 360° total)
(Standard accepts lesser angle to allow room for sample support)
11
Oscillating Speed
4 sec. for 2 x 120° for IPX3 (10 RPM)
12 sec. for 2 x 360° for IPX4 (10 RPM)
4 sec. for 2 x 120° for IPX3 (10 RPM)
12 sec. for 2 x 360° for IPX4 (10 RPM)
4 sec. for 2 x 120° for IPX3 (10 RPM)
12 sec. for 2 x 360° for IPX4 (10 RPM)
12
Oscillating Tube Material
SUS304 Stainless steel
SUS304 Stainless steel
SUS304 Stainless steel
13
Turntable Speed
1-5r/min
1-5r/min
1-5r/min
14
Protection
Leakage, water shortage, short circuit
Leakage, water shortage, short circuit
Leakage, water shortage, short circuit
15
Power
250V or 110V, 1KW
250V or 110V, 1KW
250V or 110V, 1KW