IPX3-IPX4 Oscillating Tube Unit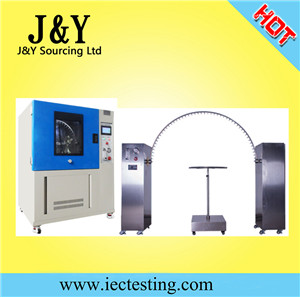 Oscillating Tube Unit for IPX3 and IPX4 (Model:JY-IPX34A)
For checking the protection against water with spray nozzle of 0,4 mm bore are used to prove the degrees of protection for the second characteristic numerals 3 and 4 "Protection against Spraying Water" resp. "Protection against splashing Water".
Oscillating Tube Unit for IPX3 and IPX4(Model:JY-IPX34B)
Application
The oscillating tube test is one of several methods used to test the water protection capabilities of enclosures for electronic items that are expected to be exposed to rain or water spray. This test is used to meet the requirements of IPX3 and IPX4 in IEC 60529. In the test described in IPX3 and IPX4 with an oscillating tube, the specimen is placed in the center point of the semicircle defined by the oscillating tube. It is then subjected to a spray of water at a defined pressure to test for leakage. The oscillating tube will have spray holes over 120° of the tube for IPX3 and over the full 180° for IPX4. In IPX3 the tube will oscillate to 60° either side of the vertical. For IPX4 the tube travels through an angle of almost 340°. The specimen needs to be placed within 200mm of the tube. For this reason different size tubes are needed to test different size specimens.
Instrument
The JY-IPX34 Oscillating tube Tester meets the requirements of IEC 60529 and other major standards. A touch screen controller is used to establish the test and control oscillation range, speed, and time of test. The controller and other operating components are enclosed in a stainless steel cabinet.
Numerous tubes are available to meet differing specimen sizes. These tubes are made of stainless steel and come with nozzles that can be shut off. This allows the same tube to be used for IPX3 and IPX4 with a simple adjustment to some of the nozzles.
The tubes oscillate to almost 180°either side of vertical. The degree of oscillation can be set on the touch screen controller or one of the three pre-set values, 90°, 120°, or almost 180°, can be selected.
A specimen support is also included. It is supplied with three specimen tray – according to different size tube and test sample replace different size tray.The support is made from stainless steel and mounted on wheels for easy maneuverability and adjustment. It offers height adjustments that range 300mm,1200mm to 1500mm.
Features
—Touch colorized screen controller
—Oscillating tubes are stainless steel
—Stainless steel nozzles removable for cleaning or replacing
—Nozzles can be turned on or off to adjust the arc of the spray from the tube
—Water supply unit includes water filter, pump, flow meter, electromagnetic valve and switch valve.
—Safety creepage, Safety over loading, safety short circuit
—Turbo flow meter control flow rates meet major standards
—Oscillating tube angle can be adjusted freely from 0° to almost 350°
—Oscillating tube material is stainless steel
—Machine shelf material is alloy aluminum.
— Alloy aluminum specimen support with easy height adjustment and three specimen tray
Conforms To
IEC60529,IEC60598-1, IEC 60335-1, EN60335-1, IEC60950-1, GB4208, GB7000.1
Specifications
Main Power Supply : 220V 50Hz or 110V 60Hz
Control System : PLC control, touch screen operation
Tube angle : 0° to 350° (adjustable)
Nozzle : 0.4mm (0.8mm nozzle as option)
Water Pressure: 80~150kPa
Specimen Support Diameter : 700mm
Specimen Support Height : 300mm,1200mm to 1500mm (adjustable)
Specimen Support turn up: 1rpm
Specimen Support Max Loading : 100kg.
Flow speed: 0.4mm nozzle: 0.07l/ min. ±5%
Timer : 1-999 minutes, auto stop
Dimensions : W*D*H=2200mm*1000mm*2600mm
Shipping Size(include packing )
Weight: 538KG
Size: 2.5 Stere
Ordering Information
JY-IPX34 Oscillating Tube Tester – specify 220V 50Hz or 115V 60Hz
Includes:
1 Control System
1 Specimen Support
1 Machine shelf of Oscillating Tube
1 Water box
Option: (requires at least one to complete the instrument)
1 R125 specimen tray of Specimen Support
1 R265 specimen tray of Specimen Support
1 R350 specimen tray of Specimen Support
1 Oscillating tube with radius of 0.2m
1 Oscillating tube with radius of 0.4m
1 Oscillating tube with radius of 0.6m
1 Oscillating tube with radius of 0.8m
1 Oscillating tube with radius of 1m
1 Oscillating tube with radius of 1.2m 
1 Oscillating tube with radius of 1.4m
1 Oscillating tube with radius of 1.6m
Consumables
1 Nozzle of Oscillating tube (10pcs/pack)