IPX5-6 Jet Test Set with Supply System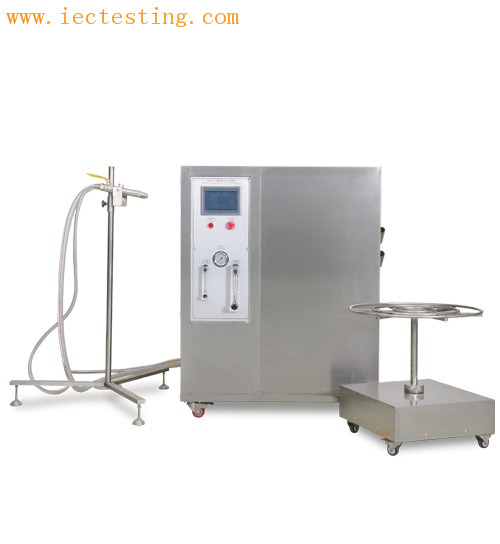 IPX56 powerful water jets
     Test device to verify protection against water jets, For checking the protection against ingress of water to prove the degrees of protection with the second characteristic numerals 5 "Protected against water jets" or 6 "Protected against powerful water jets"

IPX5 and IPX6 call for a specimen to be sprayed with water from all practicable directions. IPX5 specifies a nozzle with a 6.3 mm diameter opening and a flow of 12.5l/min. IPX6 specifies a nozzle with a 12.5mm diameter opening and a flow rate of 100 l/min.
IPX5-6 Jet Test Set  Features:
The IPX5-6 Jet Test  Set with Supply System  (Model:JY-IPX56A) consists of a jet handle that is equipped with a pressure gauge and IPX5 & IPX6 nozzle; a supply system that is equipped water tank, water pump and control system.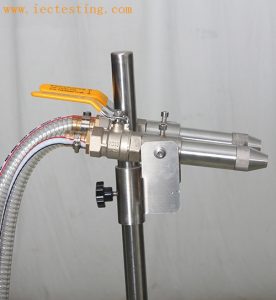 —Stainless steel nozzles
—Water tank stainless steel
—Touch screen operation
—Leakage safety protection devices, short circuit safety protection device
—Water pump overload warning to ensure safety
—Valve for water flow regulation and shut off
—Pressure gauge
—Hose connector
—Turntable electrical part of the whole seal to prevent leakage of water
—Stainless steel turntable with easy height adjustment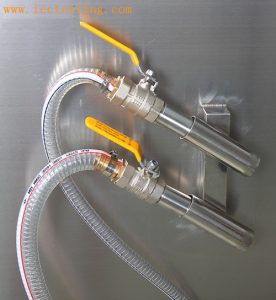 —Turn tableis equipped with waterproof; the universal adaptor can be used in the sample charged test;
—Turn tablehas four wheels with brake activity, convenient mobile and fixed.
Conforms To
IEC60529, IEC60598-1, IEC 60335-1, IEC60745-1, GB4208, GB7000.1
IPX5-6 Jet Test Set  Specifications:
No.
Items
Parameters
1
Model
SC-IPX56A
SC-IPX56AT
2
Operating mode
Touch-tone
Touch screen
3
External Dimensions
L1000×D800×H1300 mm
4
Water tank  Dimensions
550L,800×600×1145 mm
5
Nozzle Diameter (IPX5)
6.3 mm
6
Nozzle Diameter (IPX6)
12.5 mm
7
IPX5 Waterflow
12.5±0.625 L/min
8
IPX6 Waterflow
100±5 L/min
9
Flowmeter
5-20 L/min (IPX5),10-110 L/min (IPX6)
10
Pressure Gauge(Mpa)
0 – 1MPa
11
nozzle distance to test products
2.5-3 m
12
Turntable Height
300mm-600mm (adjustable)
13
Turntable Diameter
¢600 mm
14
Turntable MaxLoading Weight
50kg
15
Rotation Speed
1 ~ 5r/min speed adjustable (to-and-fro)
16
Test time
1-9999 min can be set
17
Power supply
380VAC 50 Hz (voltage fluctuation≦+/-10%)
18
Weight
600 kg