IPX5/6 Strong Water Jet Test Equipment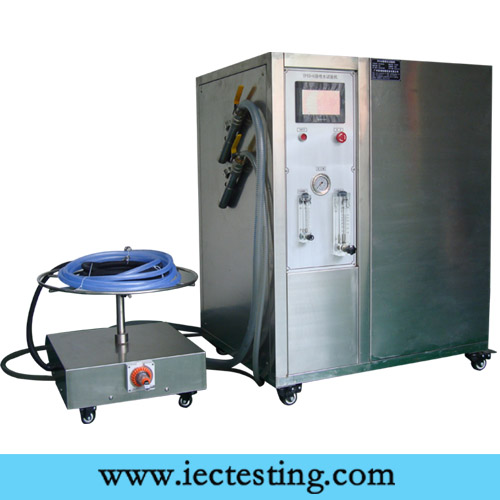 Name:IPX5/6 Strong Water Jet Test Equipment
Type:JY-IPX56A
Manufacturer:We are specialized in producing all kinds of IPX1 to IPX8 waterproof test euipment, more detail please contact us.
Product Description:
IPX5/6 Strong Water Jet Test Equipment (JY-IPX56A)
Test standard:
In accordance with IEC60529: 2001 "Degrees of protection provided by enclosures (IP Code)".
Equipment use:
The main function of this equipment is to test the physical and other related properties of the products in the environment of simulated rain, such as electronic and electrical products, lamps, electrical cabinets, electrical components, automobiles, motorcycles and their parts. After the test, through the test to determine whether the performance of products meet the requirements in order to facilitate product design, improvement, testing and factory inspection.
Product Features:
1, split type structure, safe and reliable.
2, Equipment rack and sample turntable are made of high-quality aluminum alloy and SUS304 # stainless steel plate, to ensure long-term use and does not rust
3, turntable electrical part is whole seal, effectively prevent water leakage.
4, the use of speed control motor turntable, the speed in the standard range stepless adjustable, and can control the forward and reverse rotation (with power for the sample test to prevent winding).
5, water flow through the flow meter adjustment, manual adjustment.
6, the nozzle: IEC60529 in accordance with the specifications for the system (below)
7, all electrical components such as LG, Omron and other imported brands; wiring process in line with national standards, power board layout is reasonable, wiring firm, clearly marked.
8, comes with water tank, water tank built-in water level float valve automatic control of water, and low water level alarm monitoring, effectively prevent the pump dry and damaged.
9, the test time through the time relay control, simple and practical; can be set: 0-999min (adjustable), the test is complete, automatically shut down; (IPX56AS: test time can be set on the touch screen).
10, IPX5 and IPX6 a key conversion, a key to start, automatic shutdown, simple and intelligent.
No.

Model

JY-IPX56A

JY-IPX56AS

1

Control System

(Touch-tone)Time relay + switch

Touch Panel

2

Equipment Outer dimensions (mm)

About L1000 * D800 * H1300 (including casters)

3

Water storage tank capacity

550L, a size of about 800 × 600 × 1145 (mm), 304 stainless steel

4

IPX5 water aperture (mm)

6.3

5

IPX6 water aperture (mm))

12.5

6

IPX5 water flow (L / min)

12.5±0.625

7

IPX5 water flow (L / min)

100±5L/min

8

Water pressure (Mpa)

Prescribed water flow regulator

9

Flow control

Using band regulating flow meter

10

Spray distance

2.5*3m (test personnel Control)

11

Gun fixation

Handheld

12

Pump

Stainless steel multi-stage pump

13

Waterway material

Stainless steel + PPR pipe welding

14

Turntable Diameter (mm)

600

15

Turntable load power

AC220V

16

Material

SUS304#Stainless steel

17

protective device

Leakage, water shortage, short circuit

18

Power supply(V)

380V

19

Power(KW)

3

20

Standard

IEC60529:1989+A1:1999.(IPX5 IPX6)