IPX7 IPX8 Ingress Protection Test Equipment / EImmersion and Water Tightness Pressure Tester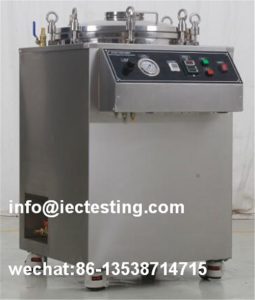 IPX7/IPX8 Immersion and Water Tightness Pressure Tester
Standard
IEC60529 degree of protection provided by enclosures (IP Code) of the IPX7 IPX8, IEC60884-1, IEC60335-1, IEC60598-1.
Application
Assessment of enclosures and sealing element whether can ensure good performance of equipment and components after the water test or during the test.
Test sample
Products with IPX7 and IPX8 degree waterproof test.
Parameters
| | |
| --- | --- |
| Pressure vessel | Stainless steel tank, diameter 0.6 meter, height 1.2 meter |
| Pressure adjustment range | 0 ~ 3bar (can be customized) |
| Pressure system | Stainless steel pump + frequency converter |
| Material | SUS304 stainless steel |
| Lifting device | Portable stainless steel lift bracket |
| Water level display | scale plus water level tube |
| Time control | 0~99minutes 99seconds |
| Pressure holding range | Atmospheric pressure-0.3MPa, setting pressure directly (touch screen ) |
| Thickness of stainless steel tank | 3mm |
Feature
Entire tank adopts SUS304# stainless steel high accuracy integrated forming,ensure it will not rust and water-tight after long time use, adjust the test pressure according to the high precision pressure regulating valve. Pressure regulating valve with pressure stabilizing function, it can keep stable test pressure all the time after the pressure has been adjusted.
2.The pot cover is rotated and lifted by the screw thread, it can rotate and move away from the hole after lifting.
3.The whole tank surface blasting treatment, smooth and beautiful.
4.Control system: Adopt touch screen controller , Combining PLC and electronic pressure sensor to form loop control, with higher accuracy ,better operation experience, higher grade .
Safety protection device
Power overload and short circuit protection
Grounding protection
Water shortage protection
Warning alarm