IPX8 IMMERSION PRESSURE TEST DEVICE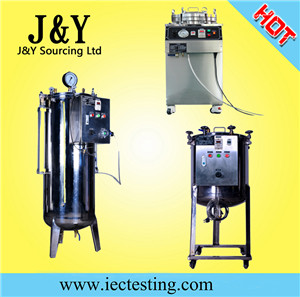 Application
IPX8 IMMERSION PRESSURE TEST DEVICE is intended for testing protection against ingress of water, IPX8 Immersion beyond 1 m, and the equipment is suitable for continuous immersion in water under conditions which shall be specified by the manufacturer. Normally, this will mean that the equipment is hermetically sealed. However, with certain types of equipment, it can mean that water can enter but only in such a manner that it produces no harmful effects.
Test duration: continuous immersion in water; Depth specified by manufacturer
According to standard
IEC 60034-5 , IEC 60529 , IEC60598, IEC 60947-1 ,EN 60335-1 , EN 60950,VDE 0570  VDE 0630 ,IEC60745-1,GB4208, GB7000.1
Specifications
—Pressurized container : 304 Stainless steel tanks, diameter 500mm , height 500mm(or heigh 700mm options)
—Pressure adjustment range : 0.05-0.600MPA
—Pressure device : Compressed air (prepare by customer)
—Pressure gauge precision 0.25 , range 0-6Bar /0-87PSI/0-0.6Mpa
—Test time : 0-99min
—The maximum limit pressure : Safety pressure 0.8MPA
—Pressure protection : pressure switch protection.
—Test pressure range 10-40 meters depth adjustable,
—And between water supply equipment using 3/4 " high pressure hose connection wire
—Outer Dimensions: W*D*H=800*600*1200MM
—Power Supply : 220V 50Hz or 115V 60Hz
—Weight:  80KG