IPX9 IPX9K High-pressure and Steam-jet Test Chamber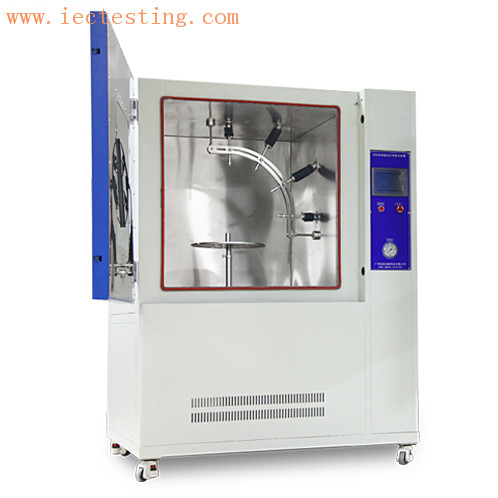 [tabs title="" type=""][tab title="Description"]
This equipment is used to inspect the IEC enclosures for the electrical equipment (IP supplementary code test), and it is applicable for waterproof testing of the electrical and auto parts under high temperature and high pressure.
Confirm to standards:
IEC 60529 IPX9K;EN 60529 IPX9K;ISO 20653-2006;ISO30653-2006;QC/T 417.1-200;TSC1000G;DIN40050-9 and so on.
[/tab][/tabs]
[tabs title="" type=""][tab title="Feature: "]
The equipment is consists of heating water tank, high pressure plunger pump, high pressure solenoid valve, fan nozzle, turntable and so on.
Firstly, heat the water in the water storage tank to required temperature,
secondly, mount the sample on the turntable, adjust the position of the nozzle,
thirdly, close the protective door of the test equipment, set all test required parameters, finally, start the test.
The four nozzles spray for 30 seconds in order during the test.
[/tab][/tabs]
[tabs title="" type=""][tab title=" Specifications: "]
Technical parameters:
| | |
| --- | --- |
| Model | JY-IPX9K-1000L |
| Test Water Temperature | 80±5 ℃ |
| Nozzle specification | It is designed according to the standard figure |
| JET number | 4 (0°, 30°, 60°, 90°) |
| Spray pressure | 8MPa-10MPa (adjustable) |
| Spray flow | 14l/min-16l/min |
| Spray distance | 100~200mm adjustable |
| Sample support platform | Diameter 400mm |
| Sample support platform rotate speed | 1-10r/min |
| Sample support platform bearing | ≤50kg |
| Sample support platform lift | 300mm~400mm (Manually) |
| Power supply for test sample | Provide interface for test product, 4 core wire power supply, the maximum 30A |
[/tab][/tabs]
[tabs title="" type=""][tab title=" Test sample:  "]
Products with IPX9 degrees waterproof test products, such as automobile and motorcycle parts, electrical and electronic industries.
This equipment unit has the following capabilities:
(1) Temperature control of the test environment (RT to 80°C),
(2) test conditions :chamber temp., water temp., flowrate, and water pressure,
(3) Quantification of jet impact force, and
(4) Tests in energized conditions.
During the test, high pressure water is injected to a specimen at certain intervals by adjusting the valves of the 4 nozzles.
The specimen is placed on the rotating table and rotated at certain intervals to check water ingress protection at each part of the enclosure (specimen).
[/tab][/tabs]