Load box-Power load cabinet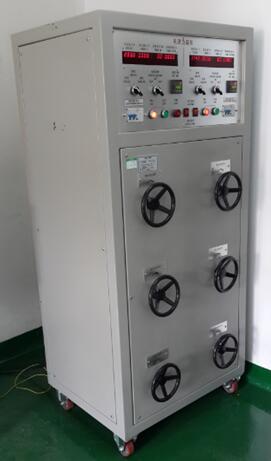 Product overview:
This load box is designed and manufactured according to IEC60884、IEC61058、IEC606691 standards and etc. It is used for the on-off ability test and the normal operation lifespan test of the Switches for household and similar fixed-electrical installations. Besides, it is also applied in the test of breaking volume of plug and socket, and mechanical action of normal operation lifespan.
This device is with blue framework and gray cover. The top of this apparatus is the operation control panel on which there are switches for controlling power supply, for the electric capacity conversion and for the load type conversion. There are also the displaying meters of connecting current and voltage as well as power, the buttons of start and stop, alarm, the status indicator light and so on. Below are the according knobs for output voltage adjustment, for current adjustment and for inductance adjustment. There are three load lines. Each of them has the function of resistive, inductive and capacitive Load test. The kind of load test can be chosen by the transferring switch. The load box inside is cooled by the strong wind convection. There are terminals below the load box through which the load box can be connected with the switch and plug-socket endurance tester using the wire. During the process of test, the equipment outputs the current and voltage as well as power.
 Technical parameters:
item
parameters
remark
1
Meter Power
single phrase with ground wire AC220V/50Hz
Load Power
Three-phrase and four-wire AC380/50Hz(single phrase AC220V,in total three pairs)
2
Working station
Three stations (It can be customized)
3
Digital display voltage meter
0~300V、acurancy:±0.5%
4
Digital display current meter
0~40A、accurancy:±0.5%
5
Digital display power meter
0~12KW、accurancy:±0.5%
6
Digital display power factor meter
0.3~0.999、accurancy:±0.5%
7
Load method
Resistive, inductive and capacitive load (three in one) it can be transformed.
8
Capacitive load
70uf、140uf、7.3uf can be chosen.
9
Load output
Each power and interval power can be chosen.
10
Counter
0~999999,it can be preset.
11
The volume of load power supply
3*10KVA
12
The maximum of the output current
30A,when it exceeds 32A, it stopped automatically.
13
The maximum of the output voltage
300V, when it exceeds 305V, the load is stopped automatically.
14
Atmospheric pressure
80~106kpa
15
Environmental temperature
5~40°C
16
Relative humidity
(20~90)%RH
17
Using place
No violent shaking

Without electromagnetic interference and dust.

No explosive or corrosive gas.

Good heat dissipation

18
Size and weight
L*W*H=1200*760*1830mm,800kg