Pendulum Hammer Test Apparatus – IK code and the corresponding impact energy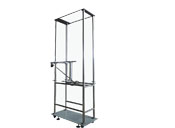 Product details:
This testing device conforms to IEC62262. It is used for the mechanical strength test of the sheet metal like the substation ark and the metalloid electric energy metering cubicle. The mounting bracket and the angle of impact are adjustable. This device is for the energy impact test (the energy is more than 2J).
Technical parameters:
Pendulum: Length: 1000mm; external diameter: 15.9 mm; thickness: 1.5 mm; material: steel;
The impact height can be adjustable (200-1200mm). It can be customized. The impact apparatus can be moved on all sides.
The feature of the striking elements
energy/J
≤1

±10%

2

±5%

5

±5%

10

±5%

20

±5%

50

±5%

Equivalent mass±2%kg
0.25(0.2)
0.5
1.7
5
5
10
material
nylon
steel
R/mm
10
25
25
50
50
50
D/mm
18.5(20)
35
60
80
100
125
f/mm
6.2(10)
7
10
20
20
25
r/mm
–
–
6
–
10
17
l/mm
The height of falling
energy/J
0.14
0.2
(0.3)
0.35
(0.4)
0.5
0.7
1
2
5
10
20
  50
Equivalent mass/kg
0.25
(0.2)
0.25
(0.2)
0.25
(0.2)
(0.2)
0.25
0.25
0.25
0.5
1.7
5
5
10
Dropping height±1%mm
56
(100)
80
(150)
140
(200)
(250)
200
280
400
400
300
200
400
500
  IK code and the corresponding impact energy
| | | | | | | | | | | | |
| --- | --- | --- | --- | --- | --- | --- | --- | --- | --- | --- | --- |
| IK code | IK00 | IK01 | IK02 | IK03 | IK04 | IK05 | IK06 | IK07 | IK08 | IK09 | IK10 |
| Impact energy/J | a | 0.14 | 0.2 | 0.35 | 0.5 | 0.7 | 1 | 2 | 5 | 10 | 20 |
Picture view: