Pendulum Hammer Test Apparatus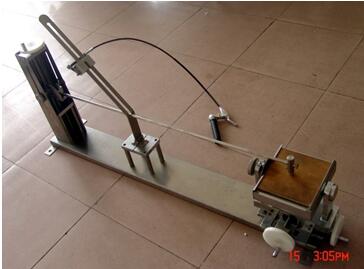 Product details:
This testing device conforms to many standard requirements like IEC60068-2-75 IEC0884-1fig22-26. It is used for the mechanical strength test of Household and similar use of plug socket, some electrical accessories like switch and shroud etc. The test apparatus consists basically of a pendulum rotating at its upper end in such a way as to be kept in a vertical plane. The axis of the pivot is at 1000㎜ above the measuring point. This device is for the energy impact test (the energy is no more than 1J).
Technical parameters:
Pendulum: Length: 1000mm; external diameter: 9mm; thickness: 0.5mm; material: steel; weight: 100±1g
Mounting bracket:weight: 10±1 kg; it is well-set and the Horizontal direction and the vertical direction can be adjusted. The whole bracket can be rotated 90°through the rotation axis.
Striking element: 150g and 200g.
  The feature of striking elements
energy/J
≤1

±10%

2

±5%

5

±5%

10

±5%

20

±5%

50

±5%

equivalent mass±2%kg
0.25(0.2)
0.5
1.7
5
5
10
material
nylon
steel
R/mm
10
25
25
50
50
50
D/mm
18.5(20)
35
60
80
100
125
f/mm
6.2(10)
7
10
20
20
25
r/mm
–
–
6
–
10
17
l/mm
The height of falling 
energy/J
0.14
0.2
(0.3)
0.35
(0.4)
0.5
0.7
1
2
5
10
20
  50
equivalent mass /kg
0.25
(0.2)
0.25
(0.2)
0.25
(0.2)
(0.2)
0.25
0.25
0.25
0.5
1.7
5
5
10
The height of falling±1%mm
56
(100)
80
(150)
140
(200)
(250)
200
280
400
400
300
200
400
500
  IK code and the corresponding impact energy
| | | | | | | | | | | | |
| --- | --- | --- | --- | --- | --- | --- | --- | --- | --- | --- | --- |
| IK code | IK00 | IK01 | IK02 | IK03 | IK04 | IK05 | IK06 | IK07 | IK08 | IK09 | IK10 |
| Impact energy/J | a | 0.14 | 0.2 | 0.35 | 0.5 | 0.7 | 1 | 2 | 5 | 10 | 20 |
Picture view: