Pendulum Impact Testing Machine / Device For Lamp Holder Impact Resistance Test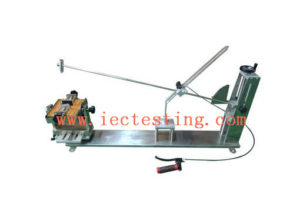 Pendulum Impact Testing Machine / Device For Lamp Holder Impact Resistance Test
Pendulum Impact Testing Machine overview:
This tester conforms to the standard of IEC60884 fig 22-26, it is used for impact resistance test of the lamp holder insulating shell.
Device For Lamp Holder Impact Resistance Test consists basically of a pendulum rotating at its upper end in such a way as to be kept in a vertical plane. The axis of the pivot is at 1000 mm above the measuring point. The pendulum is composed of a nominally rigid arm and of a striking element complying with the requirements of table 1.
For testing heavy, voluminous or difficult to handle specimens, a portable pendulum may be used. It shall comply with the above description but its pivot may be fixed directly on the specimen or on a movable structure. In this case, it shall be ensured that, before the tests, the axis of the pendulum is horizontal, that its fixing is sufficiently rigid, and that the impact point is in the vertical plane passing through the axis.
Device For Lamp Holder Impact Resistance Test is for the low energy under 2J, should be fixed vertical on the solid wall, the installation support seat can be adjusted on all sides, and the impact angle can be also adjusted.
Technical parameters:
| | |
| --- | --- |
| Mass of the striking element(equivalent mass): | 150±1g(200g) |
| Mass of the mounting support | 10±1Kg |
| The support | Moved up and down, left and right |
| Pendulum axis | Length 1000±1mm,mass 100g,Mater O.D 9 mm |
| wall thickness of the steel tube | 0.5 mm |
| Impact height of the pendulum axis | 75mm,100mm,150mm,200mm, 250mm,300mm,400mm,500mm scales show |
| Support setting | Pad 175*175*8 plywood,equip with universal fixture lamp holder |
| Release mode | Manual |
Relation between drop height and impact energy
                                                                          Table 6
| | |
| --- | --- |
| Insulating shell material | Impact height h/mm |
| Porcelain | 100 |
| Other material | 150 |