Switch And Plug-Socket Endurance Tester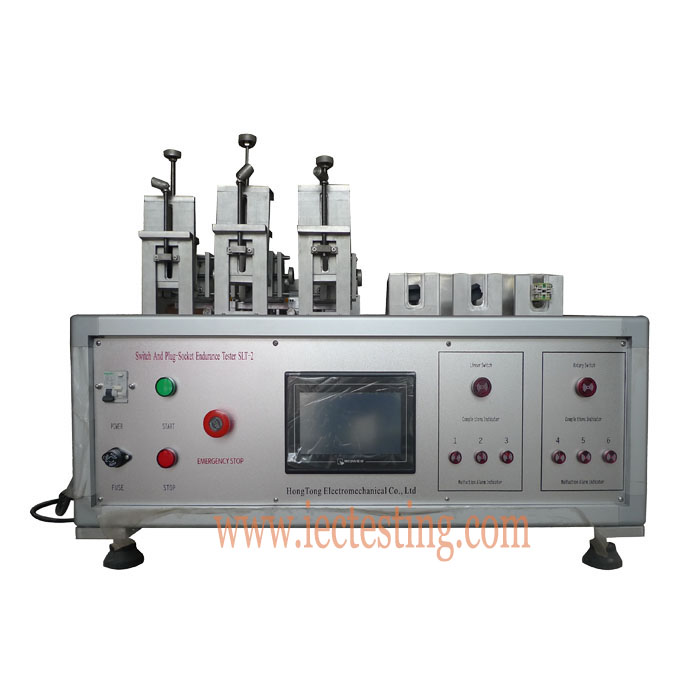 Product overview:
This device complies with standard terms of 20, 21 in IEC884-1(figure 16) and IEC60669-1 as well as IEC61058-1. It is used for the on-off ability test and the normal operation lifespan test of the Switches for household and similar fixed-electrical installations. Besides, it is also applied in the test of breaking volume of plug and socket, and mechanical action of normal operation lifespan. The testing purpose is to see whether the switches or the plugs and sockets can endurance the mechanical damage or electric fatigue failure during the normal operation. Whether the contact adhesion occurs or there is a phenomena of being the on (off) station for a long time, which is the criterion of judging the sample is over damage or not.
The equipment is suitable for the rated current less than 32A push-button switch, toggle switch, rocker switch, push-pull switches and knobs switches. It can also be used for load test when connected with the load box.
The device is made of aluminum alloy rack, stainless steel seal plate, driven by a servo motor and ball screw, 7-inch multicolor touch-screen display and set the test parameters, PLC control. The testing times, the connecting time, testing rate, and the rotating angle can be preset. With the current displayed, the equipment can display the current sample. There are six working stations. Three are for linear switch test or plug and socket test and three for rotary switch test. When the switch consecutive turned on or off due to adhesion or failure, it can fault alarm and record the number of experiments. When an alarm occurs, the test is stopped automatically.
Specifications:
1
Power supply
AC220V±10%/50Hz
Remark
2
Working station
6 stations,three for linear switch and three for rotary switch
3
Operation interface
7-inch multicolor touch screen
4
Type of drive
Servo motor +ball screw
5
Controlling system
PLC control
6
Testing times
0~999999,it can be preset.
7
Connecting time
0~99.9s,it can be preset.
8
Closing time
0~99.9s,it can be preset.
9
Testing scope
Linear:-40~110mm,it can be preset.

Rotary: 0~360°,it can be preset.

10
Testing speed
Linear:0~100mm/s,it can be preset.

Rotary: 0~90°/s,it can be preset.

11
Atmospheric pressure
80~106kpa
12
The temperature of environment
5~40°C
13
Relative humidity
(20~90)%RH
14
Using place
No violent shaking

Without electromagnetic interference and dust.

No explosive or corrosive gas.

Good heat dissipation

15
Size and weight
L*W*H=880*730*520mm,120kg
Picture view: