Test Probe B IEC61032 Figure 2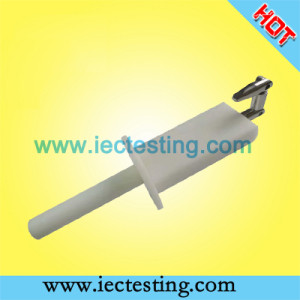 Test Probe B IEC61032 Figure 2
–Test Finger Probe B  JY-F2B
Product information:
This is a precision test finger made in accordance with many standards like IEC 61032 figure 2,  IEC60950 figure 2A、IEC60884、IEC60335、UL507、and UL1278 figure 8.4.
This probe is intended to verify the basic protection against access to hazardous parts. It is also used to verify the protection against access with a finger. This test finger probe consists of ditto, finger, base and insulated handle which simulates the characteristics of the human hand. It has two movable joints, which can be curved at 90°.
Customizable: it can be used for anti-electric shock test when equipped with pluggable banana plugs and amphenol connector at the end of the handle , or used for enclosure protection test when open threaded hole of M6 at the end of the handle (connected with pull and push dynamometer).
Specification and technical parameters:
| | | | | |
| --- | --- | --- | --- | --- |
| Parameters /Model | JY-F2B | JY-F2B -A | JY-F2B -B | JY-F2B-F |
| Name | Standard test finger | Circular baffle test finger | Large baffle test finger | Standard test finger with force |
| 1 | 30±0.2 | 30±0.2 | 30±0.2 | 30±0.2 |
| 2 | 60±0.2 | 60±0.2 | 60±0.2 | 60±0.2 |
| 3 | 80±0.2 | 80±0.2 | 100±0.2 | 80±0.2 |
| 4 | 180±0.2 | 180±0.2 | —- | 180±0.2 |
| 5 | R2±0.05 | R2±0.05 | R2±0.05 | R2±0.05 |
| 6 | S4±0.05 | S4±0.05 | S4±0.05 | S4±0.05 |
| 7 | 37o  0 -10' | 37o   0 -10' | 37o   0 -10' | 37o  0 -10' |
| 8 | 14o  0 -10' | 14o  0 -10' | 14o   0 -10' | 14o  0 -10' |
| 9 | Ф12 0 -0.05 | Ф12 0 -0.05 | Ф12 0 -0.05 | Ф12 0 -0.05 |
| 10 | Ф50 | Ф50 | —- | Ф50 |
| 11 | 20±0.2 | —- | —- | 20±0.2 |
| 12 | Ф75±0.2 | Ф75±0.2 | Ф125±0.2 | Ф75±0.2 |
| 13 | 5±0.5 | 5±0.5 | —- | 5±0.5 |
| 14 | —- | —- | —- | 10-30N force |
| 15 | IEC61032.1 | IEC60335-1 | IEC60335-2-14 | IEC60529 |